Some Florentine Itineraries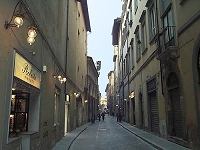 From the historical centre up to the suburbs, everything in Florence is a reminiscence of its glorious (religious, civil, artistic...) past: the Duomo, the small tabernacles, the famous squares and the narrow streets on the various districts... Every corner discloses particular aspects of Tuscany`s capital city. Just book your holiday ( in a house or in an
apartment in Florence
in strategic position )... and set off on your tour of the town!
Visiting Florence on foot is the only way to catch some characteristic aspects of the city, which make even a short stay unique: from Piazza del Duomo (which has been recently closed to vehicular traffic) to Piazza della Signoria, from the stairways by Poggi to Piazzale Michelangelo, the Oltrarno district, and so on...

Other spectacular itineraries for discovering amazing places stretch in the neighbourhood of Florence, not too far from the historical centre . Why do not you, then, rent a villa in Fiesole ... or in Settignano, Vincigliata, Montesenario, Bellosguardo... and discover the treasures hidden on the hills that surround the city?
Since you cannot get to know all of Florence in just one trip, why do not you choose a theme itinerary ?

When you think of Florence, you obviously think of art (museums, churches, palaces, and so on...). But Florence is also well renowned for its handicrafts. Artisan workshops alternate with the glistening shop windows of the most prestigious boutiques. Booths laid with plenty of typical products are just a few metres from second-hand street markets... and renting a large apartment in Florence historical centre you will have enough room for your purchases.
Every season exalts different characteristic aspects of Florence.

From April to June tourists can admire century-old parks and blooming gardens in the bright sunlight.
In the summer, Florence becomes an open-air theatre for concerts, ballets, comedies, dramas, and so on...
At the beginning of autumn, the cosy bars and the elegant chocolate shops of the city centre wait for the tourists on holiday in Florence.
And at Christmas the streets shine with thousands of coloured lights ... and suggestive manger-scenes are prepared in the churches.
Our most requested apartments in the Florence historical centre: