The "Calcio Storico" (or "Calcio in Costume") in Florence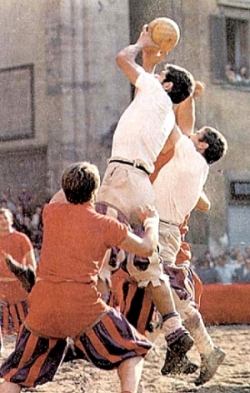 Between June and July in Florence it is time for the traditional
Calcio Storico
!
The matches are held in
Piazza Santa Croce
, a large rectangular square surrounded by the
Florentine apartments
and palaces that stand at the back of Palazzo Vecchio and in front of the homonymous basilica built between the 13th and 14th centuries.
As the English historian John Foot says in his book on Italian football, each match involves two teams and six judges. The players can move the ball both with their hands and feet, but they cannot throw it. Points are scored when the ball crosses the line at the end of the field.
Although we still do not know much about the origin of this particular "sport", it is certain that the
scions of the most important Florentine families
practiced it until the early 18th century. The list of "calcianti" includes
Giulio de` Medici
, who was to become Pope Clement VII, and other two popes-to-be (Leo XI and Urban VIII) as well as
Cosimo de` Medici
, the first Grand Duke of Tuscany.
It will a wonderful experience to watch a match between the Bianchi (or White) and the Verdi (or Green), the Rossi (or Red) and the Azzurri (or Blue) teams - which represent the four Florentine historic districts - from the balcony of you holiday apartment in Florence.
Our most requested apartments in the Florence historical centre: