The District of Santa Maria Novella in Florence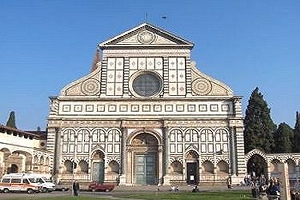 If you arrive in Florence by train because you have decided to rent for your holidays an
apartment in the Florentine countryside
instead of a room in a hotel of the city centre, a good starting point for the exploration of the city is the
district of Santa Maria Novella
, the one where the central train station is. You can have some rest from the trip sitting in Piazza Santa Maria Novella, then visit the basilica and walk a bit along the characteristic streets nearby. If you walk up to via della Scala, drop by and take a look to the historical pharmacy, the oldest in Europe.
Piazza Santa Maria Novella
is the right place to stop for a little while, make plans for the day and relax admiring the basilica. You can buy yourself a "panino" in one of the sandwich bar around the square and eat it while walking and getting familiar with the city as you take a glance to the buildings and imagine their luxury apartments.
A visit to the
basilica
is a must: even if you don't have the time to see the whole compound with the convent, the cloisters and the chapels, just go in to admire its inner structure and some of its beautiful frescoes.
An unusual place to visit is no doubt the
Pharmacy of Santa Maria Novella
in via della Scala: in a monumental environmen, with frescoes and period forniture, you'll be able to see not only the scientific collections, but buy yourself some perfume and pharmacy product as well. One more interesting spot to stop at is the
Museo Nazionale della Fotografia Alinari
(Alinari National Museum of Photography).
You can enjoy the district of Santa Maria Novella just walking around, strolling along the typical streets departing from the square, such as
via delle Belledonne
dropping at some of the numerous bars and little trattorias that scatter the whole area. You might happen to see some nice hotel r bed and breakfast to spend your next
vacation in Florence
.
Our most requested apartments in the Florence historical centre: