Holiday in Chianti Between Florence and Siena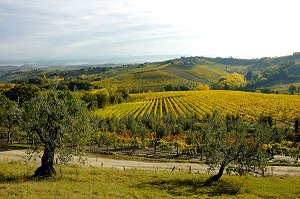 A brief description is enough to make you fall madly in love with the strip of land that stretches between the provinces of Florence and Siena:
gentle hills
covered with rows of vines, endless corn and cereal fields, century-old trees dotting the landscape with their dark crowns and, last but not least, preceded by rows of high cypresses, the picturesque rustic Tuscan villas.
Foreign tourists, especially those coming from Great Britain, the United States and Germany, were the first who re-discovered the
Chianti
region and its beauties. It is not by chance, therefore, that the area has been renamed
Chiantishire
.
Since mid-1970s many farmhouses and rural cottages have been skilfully renovated and furnished with a mix of modern comfort and elements typical of the Tuscan country style.
Actually, in the past centuries the most prestigious Florentine families were fascinated by this territory and commissioned important artists to design, enlarge or decorate some villas in the Chianti. Just think about
Villa Corsini di Mezzomonte
, situated in the countryside near Impruneta, which belonged to the Buondelmontis and the Medicis, before being acquired by the Corsini family; or about the
Medici Villa in Lappeggi
, in Bagno a Ripoli, where even the famous sculptor Giovanni Dupré lived for a while.
So, if you are planning your next stay in Tuscany and you prefer renting a villa in the countryside instead of an apartment in Florence, why do not you begin looking for a holiday house in Chianti?
Our most requested villas for vacation rentals: