Visiting Medici Villas in Florence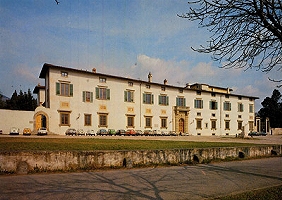 First of all, let`s clear up any possible misunderstandings: the
Medici villas
are no typical Tuscan countryside houses; they are sumptuous buildings that the powerful family of bankers built or acquired between the 15th and the 17th century.
Many
important artists
participated in their building and decoration, including Vasari, Buontalenti and Michelozzo... just to mention some of them. Moreover, in their finely decorated salons rich in works of art took place some of the most important events in the Medici saga.
Most of them built atop some hills and surrounded by gardens and cultivated fields (for more information read also the chapter of this tourist guide dedicated to parks and gardens), the Medici villas can be divided into
major
(18) and
secondary
(about 12).
The major ones are the villas standing in Florence or in its surroundings. In strict alphabetical order, they are:
Ambrogiana
,
Cafaggiolo
,
Careggi
,
Cerreto Guidi
,
Fiesole
,
Forte Belvedere
,
La Petraia
,
Lappeggi
,
Mezzomonte
,
Poggio Imperiale
,
Pratolino
and
Trebbio
.
While some of them are private and therefore are not open to visitors, the tours of those who spend their
holidays in Florence
always include a visit to those hosting museums and foundations. Many guided visits by bus to the villas are organised starting and arriving in the centre of Florence.
PS: if you are going to stay in Florence some weeks, why do not you grab the chance and visit also the other
Tuscan villas
that once belonged to the Medicis?
Our most requested villas for vacation rentals: