Piazza del Duomo in Florence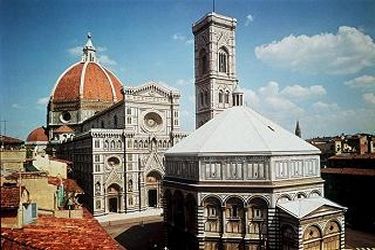 Piazza del Duomo
, with the Campanile di Giotto and the Baptistery is the symbol of Florence in the world. How many times before going to Florence have you imagined to be in front of Duomo. Now that you are finally here, start
your holiday in Florence
visiting Piazza San Giovanni, this is how Piazza del Duomo is called, to tune yourself with the Florentine atmosphere. Especially now that the historical centre around the Duomo has been closed to the traffic, wlaking around the square and the surrounding streets will be even a greater pleasure.
The
Duomo di Firenze
, or Cathedral of di Santa Maria del Fiore , is the heart of the city: you can linger outside to admire the harmonic polichromy of the marbles of the facade. Then enter the Duomo to feel yourself small compared to this gran room and to look up at the frescos of the dome. If you want to enjoy a 360 degrees view on Florence, go up the
Brunelleschi`s Dome
: the effort you put in climbing up the 463 steps will be surely rewarded!
The
Giotto`s Belltower
is as well covered in white, green and pink marble, in perfect harmony with the Dome. 85 metres high, it is six metres shorter than the Dome, but also from here the viwe on Florence is stunning. From up here you`ll be able to take pictures with a definitely unique perspective on the Duomo.
Opposite the Duomo is the
Baptistery
. You`ll see lots of turists crowded in front of its three beautiful bronze doors by Andrea Pisano and Ghiberti. Be patient and make yourself some room to look at them closely. It is really worth to visite the inside of the Baptistery: as soon as you are inside, you`ll be ravished by the perfect ly geometrical mosaics of the dome.
Are you up to an extraordinary event ? If you are on holiday in Florence on Easter day, don`t miss the
scoppio del carro
( the burst of the cart). You`ll attend a fantastic show: a cart, stuffed with fireworks is pulled by white from Porta al Prato till Piazza del Duomo . Here a thread is stretched from the main altar of the Duomo to the cart and a fake dove, is made slide on it. The dove is endowed with a lit up fuse which make the cart explode. Enjoy!
Our most requested apartments in the Florence historical centre: