Historic Cafés in Florence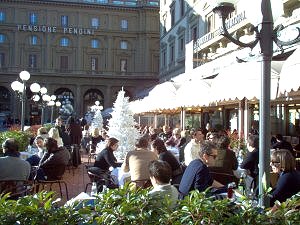 Did you know that
Negroni
, one of the most renowned cocktails in the world, of which exist many versions, was mixed for the first time in one of the many cafes in Florence historic centre?
The legend goes that Camillo Negroni, an Italian-English earl, was tired of drinking always the same old American cocktail and therefore asked the bartender to revise the recipe of the drink. No sooner said than done, around 1920 the legendary Negroni - a oz. of gin, a oz. of sweet vermouth and a oz. of Campari, ice cubes and some orange rind - was born.
But the popularity of
Florence historic cafes
is not due only to the above-mentioned cocktail. In the past, especially between the late 18th and the early 20th centuries, artists and writers used to meet, and various cultural movements and cultural and literary reviews were founded in the cafes you can still find among the palaces, apartments, historic residences and
villas in the heart of Florence
.
Futurists, for instance, used to meet at
Giubbe Rosse
(in Piazza della Repubblica), whereas Signorini, Fattori and other Macchiaioli preferred to meet at
Caffè Michelangiolo
(in Via Cavour).
Caffè Paszkowski
, which appears in one of the films by the actor and director Francesco Nuti, was the favourite meeting point of those who wrote on the reviews "La Voce" and "Lacerba" and in 1991 was declared a national monument. And we could go on speaking about
Rivoire
... but visiting these cafes during your stay in Florence is better than simply reading about them!
Our most requested apartments in the Florence historical centre: