Castles in Florence and its Surroundings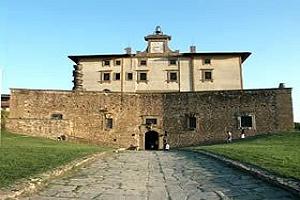 The legend goes that the
castle of Malmantile
, in Lastra a Signa, owes its name to a malediction Sant`Ambrogio pronounced against a local innkeeper: "mala mantiglia", the phrase the name of the place comes from, may in fact mean "maledetta tovaglia" (damned tablecloth).
At the beginning of every summer this village erected in the 15th century to defend nearby Florence from any possible threats coming from west plunges back into the Middle Ages, and the tourists who visit the castle can live in long lost atmospheres and taste foods dating back to medieval times.
But Malmantile is not the only castle in Florence and its surroundings.
Apart from the
Fortezza da Basso
and
Forte Belvedere
, Florence main castles, travelling in the countryside you can stumble across many buildings dating back to the first centuries of the second millennium.
In Scandicci you have the
castle of the Acciaiolis
, which nowadays belongs to the town and hosts many cultural events. In Bagno a Ripoli stands the
castle of Quarate
, which was probably built between the 12th and the 13th century and is now private property.
And do not forget the
castle of the Conti Guidi
in Vinci, in Empoli countryside. According to some written documents, the castle already existed at the end of the 12th century. The municipality acquired it in the first half of the 20th century and at present it hosts the Museo Leonardiano. In fact, it is situated close to Vinci, where Leonardo was born on April 15th, 1542. What is to be seen in the museum? More than 50 models and machines designed by the famous scientist-engineer.
Our most requested villas for vacation rentals: