Florentine Typical Dishes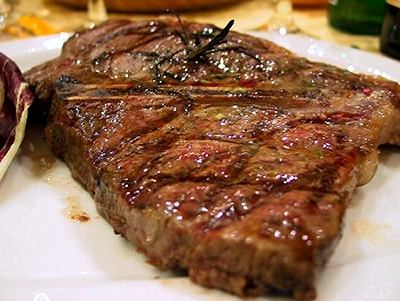 "Tell me, how does the
bistecca alla fiorentina
taste?"
At the end of your
holidays in Florence
prepare to answer thousands of times to this question. In fact it is widely renowned: a holiday in Tuscany is synonym with a stay in a land with an excellent food-and-wine tradition.
However, since in the net you can find plenty of travel guides full of tips on restaurants where to taste the bistecca alla fiorentina (... as well as the
minestra di pane
, or bread soup, and the
pappa al pomodoro
, or bread and tomato soup...), in this page we want to talk about less-renowned typical dishes.
The first recipes worth a mention are the
sandwiches with lampredotto
or
with tripe
you can buy at food stalls in the Florentine street markets. The Florentines eat this kind of street food at lunch break, but you can have it packed in a plastic bowl and enjoy it in the apartment you have rented for your holidays in Florence.
What are tripe and lampredotto? They are part of the stomach of the beef boiled with a mix of vegetables.
Coccoli
are another mouth-watering titbit. They are fried balls of bread dough you can taste alone or with stracchino and Tuscan ham.
If, instead, you are crazy for sweets and desserts, in your holiday villa in Florence you cannot run out of "
brutti ma buoni
" and - depending on the season -
pan di ramerino
(sweet bread flavoured with rosemary),
schiacciata alla fiorentina
(not to be mistaken for the schiacciata all`olio, that is, focaccia with oil)...
Our most requested apartments in the Florence historical centre: