The Uffizi Gallery in Florence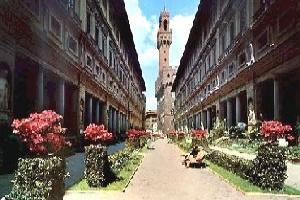 If Paris is worth a mass, a
holiday in Florence
is worth a day at the
Uffizi Gallery
.
If nothing else because it is the
most visited museum in Italy
. Together with the Galleria dell`Accademia, in fact, it welcomes every year 3 millions of tourists... which means around 8,000 visitors a day!
Situated in the heart of Florence historic centre and surrounded by architectural masterpieces, such as the
Palazzo della Signoria
, the
Loggia dei Lanzi
and, going towards the Arno river,
Ponte Vecchio
, the Uffizi Gallery was designed by Giorgio Vasari and built between 1560 and 1580. Originally, the building was erected to house the administrative offices of the Tuscan state - Cosimo I de` Medici became Grand Duke of Tuscany in 1569, after that during the Great Italian Wars Florence had defeated Siena, its sworn enemy. In the course of the centuries, the gallery has acquired new collections.
Nowadays, its more than 40 rooms house works by
Cimabue
and
Giotto
(room 2), Massacio and Beato Angelico (7), Verrocchio and
Leonardo da Vinci
(15),
Michelangelo
, Rembrandt, Tintoretto, Rubens,
Botticelli
, Dürer, Caravaggio and Hans Memling. There you will find also Roman pieces, modern bronzes, miniatures, and so on.
And while you are booking your villa or
holiday apartment in Florence
, do not forget to phone the Uffizi Gallery and book a guided visit to the
Vasari Corridor
.
The Corridor is a raised passageway over the Uffizi Gallery that connects the Palazzo della Signoria, the seat of the Tuscan government, to Palazzo Pitti, the private residence of the powerful family coming from the Mugello valley who ruled Florence.
Our most requested apartments in the Florence historical centre: