Florentine Paintings and Sculptures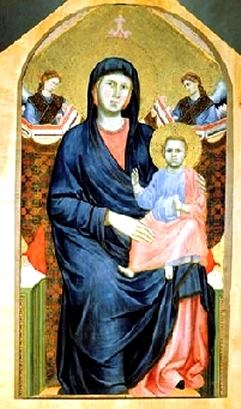 The development of the
Romanesque
style is the tangible sign of a new interest in art, after the restless period followed to the fall of the Roman Empire. The Romanesque art served mainly religious and didactic purposes in a period in which most of the population was illiterate.
To our eyes, bidimensional Romanesque paitings are naive; the characters have unrealistic features. This is due not only to the pictorial techniques of the time, but also to the fact that the artists wanted to convey the detachment of the protagonists of frescos and mosaics from earthly things. These characteristics remained unaltered until the beginning of Renaissance.
In
Gothic art
the reproductions of the human figure were more realistic. Nonetheless, this was not a real revolution.
Renaissance art
developed in Florence but it took some time to its principles to spread all over Tuscany and even in Florence those artists linked to the Gothic style continued to be offered many jobs.
Apart from artists, the real protagonists of art in the Renaissance were the clients. They were mainly leading personalities in the economic and political field who could impose their taste to the artists they hired. The Medici family, in particular, played a very important role in the history of Florentine art.
Public personalities began to commission works for their residences, thus contributing to the development of new subjects, such as busts snd portraits of leading personalities, battle scenes and allegories of classical mythoogy.
In the Renaissance, painters and sculptors, who so far had been considered simple artisans, began to be considered real artists.
Our most requested apartments in the Florence historical centre: