Florence Main Churches
The
churches of Florence
and the squares in which they stands are the nerve centres of the city of lily. If you have just arrived in town for your
vacation in Florence
, we suggest you should visit its churches first.
Your itinerary should obviously start from the
Church of Santa Maria del Fiore
, Florence cathedral. After having admired the magnificent and refined marble decorations, why do not you climb up Brunelleschi`s dome and enjoy a breathtaking view of the city from the highest point in Florence? And once you have reached the top of the dome, you could also try to identify your
apartment in Florence
.
Walking down Via Calzaiuoli, you will find the
Church of Orsanmichele
. The church has an original and interesting history: its name derives from "Orti di San Michele" (Kitchen Garden of St. Michael); it was originally built as a grain market and then converted into a church.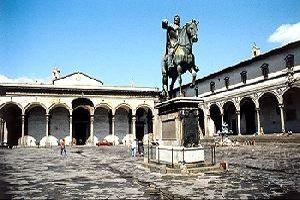 A real must-see is the wonderful
Church of Santa Croce
, which houses the tombs of illustrious personages, from Michelangelo to Galileo and Machiavelli. We suggest you to visit the internal cloister and the monastic buildings: an oasis of peace and silence in the heart of Florence.
In Florence historical centre, you could also visit the
Church of San Lorenzo
. Before dedicating to the market stalls scattered in the neighbouring streets, enter the cloister and possibly relax in the shade of its arcades.
If for your holidays in Florence you have rented an apartment in the characteristic Oltrarno district, you will certainly appreciate the tranquillity of the area, where you could admire the Church of Santa Felicita, the Church of Santo Spirito and the Church of Carmine.
Standing just two steps from Ponte Vecchio, the
Church of Santa Felicita
may remain unremarked, but as soon as you enter it, the two frescoes by Pontormo decorating its walls, the Annunciation and the Deposition, catch your attention. If you look at the ceiling, you can see the Corridoio Vasariano (Vasari Corridor) running across it.
The
Church of Santo Spirito
is another must-see. This simple church was the last designed by Brunelleschi. After having walked so much, why do not you sit down and admire it from the peaceful Piazza Santo Spirito that lies in front of it?
Our most requested apartments in the Florence historical centre: