The Cathedral of Santa Maria del Fiore in Florence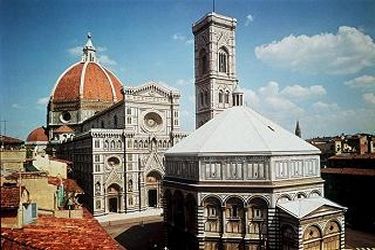 Arriving by train to Santa Maria Novella railway station or travelling on the Firenze-Pisa-Livorno expressway towards Florence, the dome and the bell tower of the
Cathedral of Santa Maria del Fiore
, that is,
Florence Duomo
, inevitably catch your eyes.
Even though Arnolfo di Cambio designed the imposing cathedral erected in the very same place where once stood a church dedicated to Santa Reparata, it was artists of the calibre of
Giotto
and Francesco Talenti, Giovanni di Lapo Ghini and
Brunelleschi
who directed the construction works between 1296 and 1436. Actually, the façade was finished only between 1876 and 1887, based on a design by the Florentine architect Emilio De Fabris.
Tourists can visit the central body of the church for free almost the whole year round. On the contrary, those who want to "climb" the 463 steps of
Brunelleschi`s dome
and the 414 steps of
Giotto`s bell tower
have to buy a ticket and respect the opening hours (for more information, see the website of the "Opera di Santa Maria del Fiore di Firenze").
And... talking of Brunelleschi`s dome: with its 116 metres, it is
Florence tallest building
. A five-star observation point for those who want to enjoy the panorama and take photos of
Florence villas
and palaces from an undoubtedly extraordinary perspective.
And do not forget that close to the Cathedral is the
Baptistery of San Giovanni
, an octagonal building erected between the 4th and 5th centuries, whose most important features are the magnificent doors by Andrea Pisano and Lorenzo Ghiberti.
Our most requested apartments in the Florence historical centre: