Squares and Markets in Florence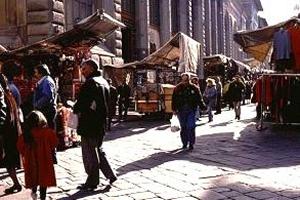 Since the Middle Ages,
squares
have played an important role in people`s everyday life. In a square one can transact and conclude business, meet relatives and friends and attend public events or religious ceremonies. In short, you can speak of religious, civic and business squares, depending on their function.
In Dante`s town, like in any other town in the world, in the shadows of palaces and historic residences there is plenty of public spaces, the most important certainly being:
Piazza del Duomo, which stretches in front of the Cathedral of Santa Maria del Fiore and has recently been closed to motor vehicles. On Easter Sunday, it hosts the "Scoppio del carro", a ceremony that attracts thousands of Florentines and tourists to the square;
Piazza della Signoria, which opens between Palazzo Vecchio and the Loggia dei Lanzi, just a few metres before the Uffizi Gallery;
Piazza di San Lorenzo, which hosts the most picturesque Florentine street market (where, apart from leather goods, you can buy sandwiches with trippa and lampredotto, the traditional Florentine street food).
These, however, are just some of the squares you should visit during your holidays by the Arno River.
Surrounded by the
Florentine apartments
north-east of Santa Croce, lies
Piazza dei Ciompi
, which is especially renowned for its flea market, where you can find antique and bric-a-brac items.
Last but not least, the Florentine villas situated on the left bank of the Arno, after Ponte alla Vittoria, overlook the
Park of the Cascine
and the
market
it hosts on Tuesdays mornings.
Our most requested apartments in the Florence historical centre: