Holidays on Florence Mountains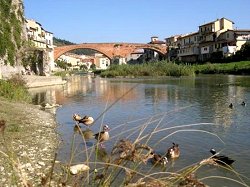 Immersed in nature, in a particularly interesting environmental area, but just an hour away from the Uffizi Gallery and Palazzo Vecchio.
It is the so-called
Montagna Fiorentina
, a territory east of the capital town of Tuscany, which encompasses part of Upper Valdarno and the valleys of Sieve and Comano. Divided into six municipalities (
Londa
,
Pelago
,
Pontassieve
,
Reggello
,
Rufina
and
San Godenzo
), it is the ideal destination for those tourists who during their holidays in Florence would like to relax in close contact with nature.
Small hills covered with
forests
alternate with
gentle slopes covered with vineyards and olive groves
. Moreover, right in this area stand some of the most charming Florentine castles and many aristocratic countryside residences that have nothing to envy to the villas in Florence.
Want some example?
The
castle of Nipozzano
in Pelago and the
Torre a Decima
in Pontassieve, Villa Poggio Reale in Rufina or Villa le Fonti in Pontassieve.
And then there is
Vallombrosa
with its abbey. Built around mid-18th century - but the monks have lived in the area since the year 1000 -, the abbey hosts a museum and an ancient drugstore selling honey, marmalades and jams, herbal teas, syrups, liqueurs and even chocolate.
As we have already said, however, a stay on the Florentine mountains is above all synonym with
nature and sport
: many tracks are waiting for you to have wonderful walks and mountain-bike or horseback rides. At the end of which you will have the opportunity to taste the delicious local products!
Our most requested villas for vacation rentals: