Enjoy the Nightlife in Florence: Restaurants Bars and Clubs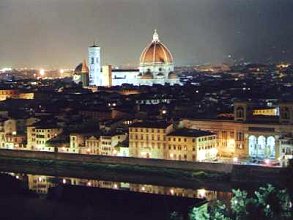 Although Florence is a little capital, it offers a
lot of different entertainment
ranging from wine-bars to cocktail-ones, were young and less young people usually meet each others. Often, in some clubs is also possible to listen to live music.Theatre,, opera and cinema are also on hand. During the summer the main squares of the city do usually become the ideal space for the organization of free public cultural activities. So, in Santo Spirito Square, for example, usually take place open-air concerts as well as theatre and modern dance performances. The best way a tourist has to be informed on the events taking place in Florence is to refer to the two free publications pressed by the tourist information office: "Turismonotizie" and "Avvenimenti". Another useful brochure about the latest updates of Florence. is "Informacittà". In places like bars and restaurants, other backyard publications such as the monthly "Zero" and "Nightfly", which concentrate on bars and clubs, are also available, but what I really suggest you is to go around the city centre searching for your own ideal place.
Enjoy Florence : Drinking
Bars and clubs, especially on the week-end, during the wee hours get plenty of people. The choice varies from wine-bars, where you can taste an endless selection of fine Tuscan wines, perhaps accompanied by some tasty snacks, to one of the many UK-style pubs, to the Anglo-Irish pubs, which are a reflection of a double phenomenon in Florence: the considerable Anglo-Saxon presence in town (students and tourists) and a certain Italian fondness for this kind of meeting place. In the pubs people are likely to look to a football, a soccer or a rugby game live on screen while drinking a pint of beer or any other drink. The city is full of bars ranging every kind of furniture style from kitsch leopard skins and puffy cushions to minimal designed cocktail bars.
Enjoy Florence : Clubbing
If you are an insatiable dancer you can enjoy yourself in the many little dance clubs of the city. You can choose among Latin rhythms, jazz music and disco sounds. "Central Park" and "Meccano" are two of the city`s main clubs where disco music is played, while "Maracanà" is a club where, after a brazilian dinner, you can enjoy either Latin dances or house-music.
Our most requested apartments in the Florence historical centre: