The Characteristic District of Santa Croce in Florence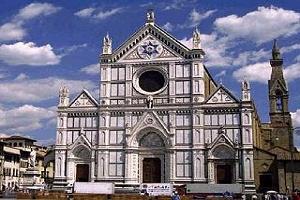 Santa Croce is a must of your stay in Florence. If you are walking around the
Santa Croce district
you can't but stop and admire the Basilica from which the very district takes its name. Although the area is very touristy, it has maintained its own original traits: strolling about the winding streets and the small squares you'll find out tiny typical shops and museums, minor only as to their dimensions, in which you can stop and always discover something new and interesting.
The
Basilica di Santa Croce
will catch youR attention and you will have to sit on one of the benches in the square in front of the Church and enjoy the view. If you look up, you can also try to immagine how it is like to live in one of the
luxury apartments in Santa Croce
, right in the palaces all around the square. If you have no other planes for the day, why don't you go in and visit the basilica and its beautiful closters and chapels?
A quick visit to a museum? Here around Santa Croce you can choose among the
and the Museum of Science History. The former hosts a small but remarcable collection of paintings and sculptures gathered by the art critic Horne himself, who lived here. The latter is a kind of temple dedicated to Galileo: indeed you can find here on exhibition his telescopes and the lenses he used to study and observe the biggest of Jupiter's satellites. One curiosity? In via Ghibellina, 70 Michelangelo Buonarroti lived for a while. If you want to take a look to the house and the collection of Michelangelo's works that it hosts, you can go in the morning.

If you are up to some shopping while walking peacefully around, the area nearby Santa Croce is scattered around with tiny and characteristic streets where one can still find craftsman shops of framers, restorers and antique dealers as well as restaurants and trattorias with enticing menus and cozy environments. If you are on vacations in Florence with your children, go with them for an ice-cream to the little gelateria "Vivoli" (ice-cream parlour "Vivoli"): the owners maintain theirs is the best ice-cream ever – go check if it is true! That will also give you the opportunity to find around some small and nice bed and breakfast where to book your next stay in Florence.

Are you going to be on holiday in Florence in June? If you are a soccer fun or just for the sake to attend an exceptional event, extremely important to the Florentines, try to buy yourself a ticket for a match of the calcio storico ( historical soccer) played right in the beautiful Piazza Santa Croce. Enjoy the show!
Our most requested apartments in the Florence historical centre: