What and Where to Buy in Florence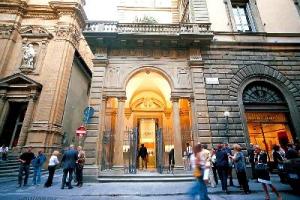 Florence - Via Tornabuoni
Florence is one of the most important fashion cities and it boasts valuable labels like Gucci, Ferragamo and Cavalli; therefore,
doing shopping in Florence
could be very expensive. However, in the last few years, outlets, too, are becoming very important for shopping: they are big department stores just out of the city which sell products of important labels
at low prices.
Besides, there are others fields that attract tourists like leather goods, pieces of pottery and jewels.
Goods that people love to buy in Florence are clothes, shoes, accessories and leather goods. Leather goods have become very famous since the 60`s. Today there are many leather good shops especially around the Square of Santa Croce or in the Market of San Lorenzo. In Florence the shopping of jewels and gold goods could be very interesting: jeweller`s shops on the Ponte Vecchio boast very old origins. In 1563 the Grand Duke Ferdinando I ordered to local goldsmiths to settle in the shops onf the Ponte Vecchio to replace butchers and grocers because they used to throw their rubbish in the river damaging the image of the Centre of the city. Since then, on the Ponte Vecchio there are only jeweller`s shops. All around Florence it is possible to find many pottery shops. Montelupo, a town near Florence, boasts a tradition in the production of pieces of pottery that dates back to the Middle Age. Finally, we can`t forget the Florentine or, more in general, the Tuscan cuisine. Streets in Florence are full of restaurants and `trattorie` where you can eat tipical and simple Florentine dishes matched with wines that come from Chianti.
Where to do shopping
- The Ponte Vecchio is known as the seat of jeweller`s shops. However, the Medieval Centre of Florence is dedicated to fashion, especially in Via de` Tornabuoni and Via della Vigna Nuova where you can find the shops of the most famous stylists. Santa Croce and San Lorenzo are the centre of leather goods shops. For shoes it is worth reaching the town of Borgo San Lorenzo. The antique trade is very important in the area of Borgo Ognissanti and Via di Maggio. In the peculiar area of Oltrarno there are many shops and workshops with very different types of goods, from shoes to jewels.
Our most requested apartments in the Florence historical centre: