Piazza della Signoria in Florence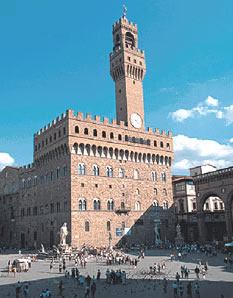 Once you get in
Piazza Signoria
you'll be in the centre of the Florentine social life:indeed, it was here that since the XIV century the Florentines would gather together when the bell of Palazzo Vecchio would call them for a public assembly. Here the Duomo and the Ponte Vecchio are at a walking distance, while the Uffizi, the most important paintings collection of Italy, are within reach.
You don't need to enter the Uffizi righ away if you want to admire some works of art: Piazza Signoria is a full-blown open air museum. If you look around, you'll see
statues
,
monuments
, houses and
prestige palaces
. Start from here then, your exploration of the city during your
vacations in Florence
, exactly from its central square.
In Piazza Signoria,
Palazzo Vecchio
will strike your attention right away. The palace was first the seat of the representatives of the professional corporations, then the seat in which the Consiglio del Popolo during the Savonarola Repubblica would gather, finally residence of the Medici family. Anyway this is not the only palace telling bits of the history of Florence: all around the square there are the Tribunale della Mercanzia and the Uguccioni Palace. The ideal spot to enjoy the view? The
cafè Revoire
, right in front of Palazzo Vecchio: take your seat here for a coffee or a cappuccino, they will surely taste different!
Walking around the square, take a look to its
statues
, often in commemoration of the most important events of the city life: from the one of the Grand Duke Cosimo I, to the David, to those collected under the Loggia dei Lanzi.
Once you'll be ready for an art full immersion, book a ticket for the
Uffizi Gallery
: after visiting the whole gallery and admiring its artistic treasures, have a coffee to the Uffizi cafè right in top of the Loggia dei Lanzi. From here you can indulge in an unusual view on Piazza Signoria, the same view that the luxury apartments of the buildings of the square have.
Our most requested apartments in the Florence historical centre: