Florentine Writers and Poets in the Renaissance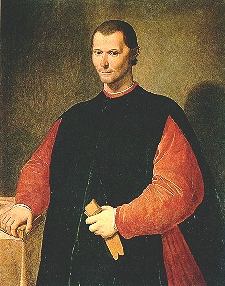 Machiavelli
Although the
Renaissance
was above all characterized by the development of figurative arts, under the impulse of rulers such as Lorenzo de` Medici, who wrote the carnival song The Triumph of Bacchus and Ariadne (1490), so-called Humanism developed.
One of the most important literary humanists was he architect, mathematician and linguist Leon Battista Alberti. Between 1433 and 1441, Alberti dedicated to his literary masterpiece, Della famiglia (On the Family), a treaty in the Tuscan dialect on marriage, education and household management.
In 1475, Agnolo Ambrogini, best known as Poliziano, began to write La Giostra, a short poem on Giuliano de` Medici`s victory in a tournament. Poliziano`s masterpiece is, however, Orfeo, based on the myth of Orpheus and Eurydice.
One of the 16th-century masterpieces is The Prince, a political treaty by Niccolò Machiavelli. The Florentine wrote also The Mandrake, a comedy on the corruption of the 16th-century Italian society.
Francesco Guicciardini stood out for his activity as a writer and for his political commitment. His Storia d`Italia (History of Italy) and Storia fiorentina (History of Florence) are considered the basis of modern historiography.
Our most requested apartments in the Florence historical centre: