Holiday villas for rent in Santa Croce sull`Arno
Our Agency of vacation rentals is pleased to offer you on this page the best villas in Santa Croce in the province of Pisa. Among the villas for rent in Santa Croce there could be the ideal villa for you!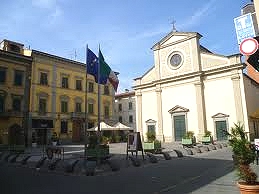 Santa Croce belongs to the province of Pisa, but is, in fact,
equidistant from Florence and Pisa
. The distance between Santa Croce and Pisa is 44 kilometers away, between Santa Croce and Florence there are 45 kilometers. The town has grown in the plains and is not far from Empoli, San Miniato and Castelfranco di Sotto.
San Gimignano
is 48 miles away and if you decide to spend the day in San Gimignano we suggest that you also stop in Certaldo, a medieval town that lies on the road to San Gimignano, which is definitely worth a visit.
Santa Croce is specialized in the manufacture of leather and, therefore, if you love shoes, bags, leather jackets this really is the city for you! You can choose the dress or leather item you want and be sure they are actually made ​​in Italy. The skilled Tuscan artisans are renowned for their skill and quality of the skin is certainly high in any store or leatherwear shop you decide to go.