Holiday villas for rent in San Miniato in Lower Valdarno
If you adore truffles what better way than renting one of our villas in San Miniato di Pisa? Choose one of the villas for rent presented on this page by our real estate agents. Some information about the city and things to do and see in the city, follow the list of our holiday villas in San Miniato.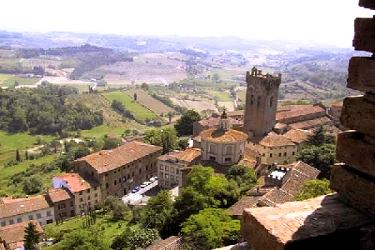 San Miniato belongs to the
province of Pisa
and is located about 50 kilometers east of Pisa going to Florence. In fact,
Florence is located just 40 kilometers from San Miniato
. The town is built on a panoramic position and is 190 meters above sea level. In the flat area there is the most modern and industrial city, specialized in the manufacture of leather. Its location is ideal to visit the most important cities of Tuscany which are only a few kilometers away. Today as in the past, San Miniato is located near the Via Francigena, the Via Pisa, the Arno River and the river Elsa.
The historic center of San Miniato is particularly rich in opulent palaces and splendid churches. Among the
palaces
, we name the Seminary Palace with its beautiful facade, Palace of the Griffins, Palazzo Bonaparte, the Episcopal Palace in red brick, the Palazzo dei Vicari Imperiali with the embattled sector and the Town Hall. The
Guelph Tower
soars over the city and is perhaps the monument that best represents San Miniato.