Holiday villas in Cascina in Upper Valdarno
In the province of Pisa we have numerous villas and farmhouses and we are confident that you can choose the villa of your dreams for your next holiday in Tuscany. On this page our villas in Cascina in Lower Valdarno.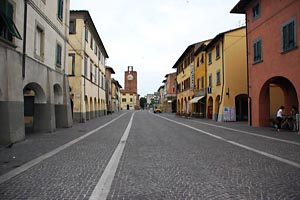 Cascina is in the
province of Pisa
and is about 20 minutes from the city. Cascina is located near the Arno River east of Pisa on the way to Florence. You can also reach Florence in about an hour's drive ... wonderful, no? In addition, Cascina borders with San Giuliano Terme and is therefore close to a major spa. Ideal if you need to relax! In about 30 minutes you can reach Lucca, a city that certainly deserves to be visited during your vacation. In about an hour instead the medieval town of Volterra. In addition to the spa do you want to have the opportunity to go to sea? The beaches of Versilia are only 30 minutes away.
Cascina is a town that still retains the walls of the fourteenth century. The defensive walls were built by the Pisans in fact to protect the city. To see the
Oratory of San Giovanni Battista
with beautiful frescoes from 1398 depicting scenes from the Old and New Testaments. In
Piazza della Chiesa
there is the church of Santa Maria Assunta dating back to twelfth century in Pisan Romanesque style. We suggest that you get inside the church and admire the many works of art that are hosted there. These include the holy water stoup in the Romanesque style of the twelfth century.
Farmhouse Buti
Holiday farmhouse dating back to the 17th century in the medieval village of Buti, between Pisa and Lucca, a few kilometres from the beaches of Versilia. Sleeps 8, swimming pool, Internet connection, panoramic terrace.
7 days: min: 960 € - max: 2425 €
More details