Holiday villas in San Giovanni Valdarno
Staying in one of our villas in San Giovanni Valdarno you will be less than an hour from Florence and will spend pleasant moments in the city birthplace of the artist Masaccio. Read on and find out what to see and do during your vacation in one of our villas for rent in San Giovanni Valdarno.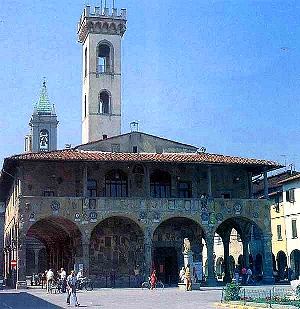 San Giovanni Valdarno is located along the
highway
that connects Florence to Arezzo and Rome and is therefore easily accessible whether you come from Florence or from the south of Italy. Thanks to the railway station of San Giovanni Valdarno, you can then decide to go to Florence Santa Maria Novella
by train
and avoid the traffic of the city center of Florence. By train, you can reach Florence in just 25 minutes using the faster regional trains.
The town was the birthplace of Masaccio and in the city you can visit the Casa Masaccio to learn about the life of this important Italian artist and his works. The historic center of San Giovanni Valdarno offers many shops if you love shopping. For lovers of art you just have to stop in front of the beautiful Praetorian Palace or Palazzo d'Arnolfo. The palace is the protagonist of the main square and has a façade with large arches filled with coats of arms.