Holiday villas in Val di Cecina
For all those to whom Tuscany brings to mind beautiful hills but can not think of holidays without sea, we have selected the best villas in Val di Cecina. Below you can find some information about Val di Cecina followed by the list of our offers for holiday villas in Val di Cecina.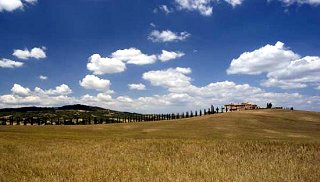 The Val di Cecina is located in northern center of Tuscany
between the hills and the sea
. For this reason it is an ideal choice if you want to stay in a farmhouse or a villa in the countryside but you also want to quickly reach the Tuscan coast to take a dip in the sea or enjoy some of the most beautiful beaches of Tuscany. From cities like Rosignano Marittimo you can reach the beaches of Castiglioncello or Rosignano Solvay in about 10 minutes, while Volterra is located in the Pisa inland and it is about 45 kilometers from the coastal Tuscany. Pisa Airport is the most important international airport and closer to the Val di Cecina. From here it is not very far from San Gimignano and the Chianti region between Florence and Siena.
Some of the towns of the Val di Cecina offer beautiful historical centers of medieval origin, and some remains of settlements from the Etruscan and Roman origins. Among these, of course,
Volterra
is the town's most famous thanks to its rich artistic heritage. In this hilly town you will find the remains of ancient civilizations like the Etruscan who lived several centuries before Christ.