Holiday villas on the Monte Amiata
Do you want to ski in Tuscany? Choose one of our villas on Monte Amiata. On this page you can find our villas on Monte Amiata between the provinces of Siena and Grosseto.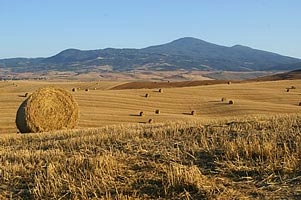 The Monte Amiata is
one of the most important mountains of Tuscany
and is 1738 meters high above sea level. The Monte Amiata, or simply called Amiata, is located between the Val di Chiana, Val d'Orcia and Maremma. Located in the south of Tuscany, Monte Amiata is located less than 100 kilometers from the coast and the sea. The main towns that characterize it are Abbadia, Santa Fiora, Arcidosso, Castel del Piano, Seggiano, Piancastagnaio and Castell'Azzara. Some of these cities belong to the province of Siena and others to the province of Grosseto. The distance between Grosseto and the Monte Amiata is about 70 km while from Siena to Monte Amiata there are about 90 km.
Due to its height, you can
ski on Mount Amiata in Tuscany
all year round, even in the hottest periods. In addition, at the lower elevations there are beech and chestnut woods where you can walk, organise pic-nics, read a good book or go horseback riding. The medieval village of Santa Fiora with its hamlets is particularly beautiful and well preserved. San Salvatore Abbey, also in the province of Siena, owes its origin to an important Benedictine monastery, later Cistercian, which today has remains of the church and the crypt. Important mining center, San Salvatore Abbey is famous for winter sports competitions.