Villas for holiday rentals in Montelupo Fiorentino in Lower Valdarno
Do you love golf? Do you want to stay between Pisa and Florence? Choose one of our villas in Montelupo Fiorentino. On this page our agency of vacation rentals is pleased to offer you the best villas for rent in Montelupo Fiorentino with pictures and price.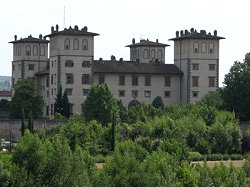 Montelupo Fiorentino is located in the province of Florence in the area known as the Lower Valdarno. The town is
24 kilometers from Florence and about 60 km from Pisa
. From Montelupo Fiorentino you can easily reach both Vinci, which is 17 kilometers away, and San Gimignano, about 44 kilometers. The town sits on a hill and its altitude varies from 35 meters above sea level to 250.
If you love pottery, Montelupo Fiorentino is the city for you! The
ceramics of Montelupo Fiorentino
in fact are famous all over the world and will surprise you with their beauty and refinement. To learn more about the history of ceramics and see works that date back to 1200 we suggest you to visit the Museum of Ceramics with more than a thousand objects. Also, if you love to
play golf in Tuscany
you can go to the golf club of Montelupo Fiorentino, just a few kilometers from the historic center.