The Sword in the Stone in San Galgano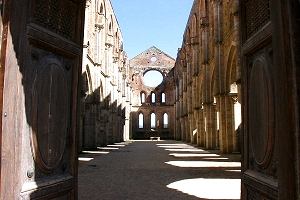 If you are on holidays in Siena with your children (or you are still a child at heart), you absolutely must visit the
Rotonda di Montesiepi
.
Situated in the municipality of Chiusdino, just about 30 kilometres from Siena and therefore within easy reach of you holiday house, the Rontonda di Montesiepi stands in proximity to the charming
Abbey of San Galgano
. Need directions? Just ask for the "sword in the stone", and do not forget to take your camera with you!
Yes, that is right: the
sword in the stone
! It is right in this small village that around mid-12th century a knight named Galgano decided to make an end of his debauched life and to become a hermit. The legend goes that Galgano, who could not find any wood for building a cross, threw his sword against the bare stone and the weapon stuck in it.
This story may remind someone of the myth of King Arthur, and indeed they have some points in common.
And when you will be back from your holidays in Tuscany, you can tell your relatives and friends that not only you have stayed in charming and as beautiful and comfortable villas or apartments in Siena as luxury hotels, but that you have seen - and taken pictures of - the sword in the stone! The authentic one, which, in spite of the many attempts to extract it, is still stuck in the stone against which
Galgano
threw it almost one thousand years ago.
Our most requested villas: