The Palio of Siena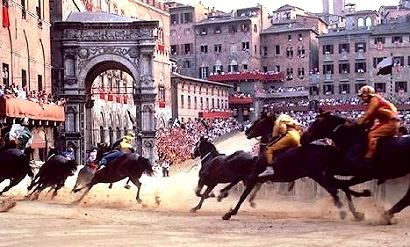 Here`s a precious piece of advice: if you are spending your holidays in Siena or you have rented an apartment in Siena in the period of the Palio... let the enthusiasm and cheerfulness that are in the air infect you!
Siena is divided into three districts - the so-called "terzi" - and, above all, into 17
contrade
: Aquila (eagle), Bruco (caterpillar), Chiocciola (snail), Civetta (owl), Drago (dragon), Giraffa (giraffe), Istrice (porcupine), Leocorno (unicorn), Lupa (she-wolf), Nicchio (seashell), Oca (goose), Onda (wave), Pantera (panther), Selva (forest), Tartuca (tortoise), Torre (tower) e Valdimontone (valley of the ram), which twice a year, on Juli 2nd (Palio di Provenzano) and August 16th (Palio dell`Assunta), are the protagonists of what is considered the
most renowned horserace in the world
.
On these two occasions 10 of the 17
contrade
challenge each other in a "carriera" (race) in Piazza del Campo for the possession of the so-called "drappellone" (the Palio), a banner with the crests of the municipality, of the "contrade", of the "terzi" and some sacred images.
Three laps that the "contradaioli" follow holding their breath.
Three laps during which everyone hopes the horse representing his/her "contrada" will win the race... or at least will arrive before that representing the "enemy" one.
If you have decided to spend your holidays in Tuscany and you are looking for some holiday rentals in Siena, take into consideration the fact that a succession of dinners and events are organized in the days preceding the
Palio of the "contrade"
.
Moreover, between the end of September and the beginning of October the winner of the Palio organizes a dinner to celebrate its victory, whose guest of honour is the winning horse.
A holiday in Siena in the days of the Palio? An unforgettable stay!
Our most requested villas: