The History of Siena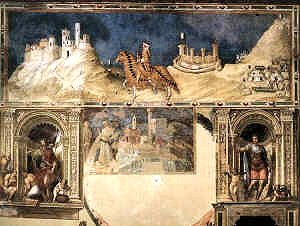 According to the traces found during some archaeological excavations, the first inhabitants were probably the Etruscan. However, the legend says that
Saena Julia
, the name the ancient Roman gave to a military colony settled in southern Tuscany, was founded by Remus` children. And that is the meaning of Siena`s crest, which represents a shield divided into halves (the upper one is white and the lower one is black), with a she-wolf at the centre that is suckling Remus` children, Senius and Ascanius.
If you have decided to spend your next holidays in Tuscany, rent an apartment or a villa in Siena for one or more weeks and it will be like living the history of Siena in person.
The
contrade
and buildings, the narrow streets and squares, the churches: everything in this charming corner of Tuscany has something to tell.
Most of the episodes date back to the Middle Ages, when Siena began to develop into an important centre. The
rivalry with nearby Florence
reached its climax in 1555, when Siena definitively surrendered to the troops of Charles V after a one-year siege.
Today, many Siena historic buildings have been transformed into museums or have become the headquarters of associations and foundations and are open to visitors. So, once you are in your apartment in Siena, plan a visit to the museums of the "contrade", to the Palazzo Pubblico (the Town Hall), Palazzo Chigi Saracini, the Fortezza Medicea, the house of Saint Catherine of Siena, the Complesso Museale di Santa Maria della Scala...
Our most requested villas: