From Siena to the Other Tuscan Cities of Art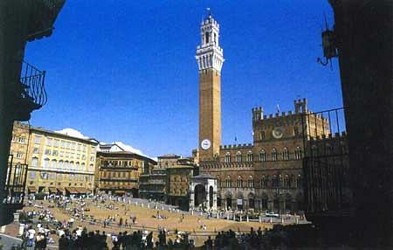 Browsing the ads for holiday rentals in Siena does not mean to renounce a traditional holiday in Tuscany, made of excursions to the main
cities of art
situated in the region which was once governed by the Medicis.
Florence
, the city of the Uffizi gallery and of Brunelleschi`s dome, of Ponte Vecchio and Piazzale Michelangelo, and
Arezzo
are about 70 kilometres from Siena.
Pisa
and the Leaning Tower are within 120 kilometres. In short, the other Tuscan cities of art are not so far from the town of the Palio, and are easily reached in one hour and a half by car.
Therefore, if you have decided to spend your next holidays in Tuscany, whether in a villa in Siena historic centre, or in a farmhouse in the hills surrounding Siena, do not renounce short and pleasant one-day trips all over Tuscany.
You could look for a good grocery close to your apartment in villa or to your farmhouse and buy some "schiacciata", some olive oil rolls, some Tuscan cured ham and salami, and some slices of pecorino di Pienza cheese for your mouthwatering pic-nic.
A
"camera"
, a sketch block (if you like drawing) and a group of relatives and/or friends are further "ingredients" for unforgettable holidays in Siena and in Tuscany.
Our most requested villas: