Siena Between Sacred and Profane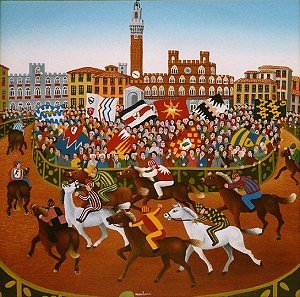 The Palio and the other events that take place in Siena all over the year have already been mentioned. But a holiday in Siena is also a great occasion for visiting some of the most important
monuments
and
museums
in the world. In the following pages of this brief travel guide to Siena you will find some pieces of advice for a wonderful stay in one of the most picturesque corners of Tuscany.
Once you have chosen your preferred accommodation (there are so many holiday rentals on offer in Siena ), take the map of the town and circle
Piazza del Campo
in red. Why? Because it is the pulsing heart of the town: the
Palazzo Comunale
(Town Hall), which hosts the
Museo Civico
, looks onto it. At the back of the square where twice a year the 17
contrade
vie with each other for the possession of the Palio stands the
Cathedral of Santa Maria Assunta
, the Duomo of Siena, which hosts the
Museo dell`Opera Metropolitana del Duomo
and the
Libreria Piccolomini
.
This should be enough for your first day in Siena!
But during your stay in the town founded by Senius and Ascanius you could also visit
Palazzo Chigi Saracini
, that hosts the Accademia Musicale Chigiana,
Palazzo Salimbeni
, the headquarters of the Monte dei Paschi, and the
Complesso Museale di Maria alla Scala
.
Just a last piece of advice: plan brief tours of the town; leave your apartment in Siena in the morning and have your lunch in some typical small restaurants in the historic centre.
Our most requested villas: