San Gimignano and its Towers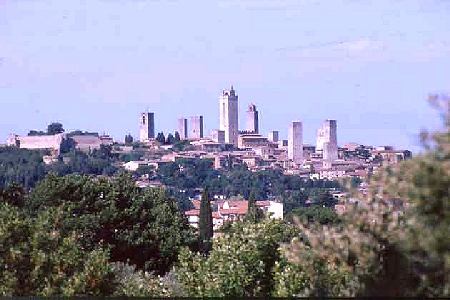 If you are looking for an apartment in a holiday farm or a farmhouse in the province of Siena , you could find an excellent solution in the ads for holiday rentals in San Gimignano.
A municipality in Upper Val d`Elsa,
San Gimignano
may turn out to be the ideal destination for your next holidays in Tuscany.
Its
historic centre
, where in the past stood 72 towers, is in the list of UNESCO`s World Heritage Sites. Fourteen towers (the 54-metre Torre Grossa that soars the town hall is the tallest one), the Duomo (which is rich in frescoes by painters of the Sienese school and houses some wooden statues by Jacopo della Quercia) and the Rocca di Montestaffoli (if you are a passionate photographer, do not forget to take your camera with you: the view over the town and the surrounding countryside is really breathtaking!) are evidence of the bygone glories of San Gimignano.
Its medieval buildings make of San Gimignano the favourite destination of many tourists that are spending even just a few days in Tuscany: indeed, San Gimignano is the
third most visited town of the region
after such important cities of art as Florence and Siena.
San Gimignano is located in the
land of Vernaccia
, a DOC dry white wine, therefore a visit of the
Museo del Vino
is a must. As is, for those who like strong emotions, a visit of the
Museo della Tortura
.
Have a nice holiday in the shadow of the towers of San Gimignano!
Our most requested villas: