Holiday villas for rent in Populonia
Spending your holidays in Tuscany near the sea and important archaeological sites? Choose one of the villas in Populonia that are below and history will be right at the door of your beautiful villa to rent. On this page our holiday villas in Populonia which can be rented by week.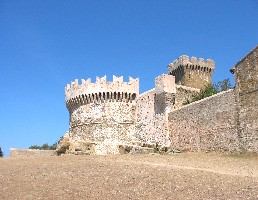 Populonia is located in the
Gulf of Baratti
in the province of Livorno. The peninsula of Piombino extends towards the sea and Populonia faces towards the north-west to the open sea. The distance between
Livorno
and Populonia is 80 miles.
Grosseto
is located a little over an hour by car heading south. Going inland to the east you can reach
Siena
in less than two hours along a scenic route that passes close to the Abbey of San Galgano and the famous sword in the stone.
Populonia è famosa per la sua storia e per la presenza di un'importante parco archeologico nel suo territorio. Qui, infatti, sono state ritrovate due necropoli etrusche. La particolarità di questa scoperta è la presenza di un insediamento etrusco vicino al mare, dato che, di solito, i ritrovamenti etruschi sono sempre stati nell'entroterra. Le necropoli di Populonia sono, pertanto, le
uniche necropoli etrusche scoperte vicino alla costa
. In particolare, ti suggeriamo di visitare il Parco Archeologico di Baratti e Populonia dove, oltre ad ammirare i resti archeologici, potrai passeggiare e godere della vista del mare.