Holiday villas for rent in Montepulciano
Our agency specialized in holidays rentals has chosen for you the best villas in Montepulciano in Val di Chiana, one of the most beautiful and famous towns in Siena and Tuscany. Read on and discover the offers of villas for rent in Montepulciano ... one of these could be your next home during your holidays in Tuscany!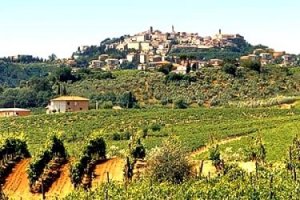 Montepulciano is located on a hill in Valdichiana
a few kilometers from the Val d'Orcia and the Crete Senesi
. Montepulciano is located about 65 km southeast of Siena and is surrounded by vineyards, olive groves and breathtaking scenic drives. From Montepulciano you can reach in less than an hour renowned villages such as Pienza, Montalcino, Chianciano Terme and Asciano, Monte Amiata and Lake Trasimeno.
The historic center of Montepulciano will surprise you with its beauty and richness of art and history. From the medieval gates that allow access to the town continue along small streets full of ancient palaces, churches and small shops selling local products to reach the main square with the seventeenth-century Duomo, the fourteenth-century Palazzo Comunale and the wonderful Well of Griffins and Lions .