Villas for rent in Lucignano
A beautiful town in Val di Chiana to live during your holidays in Tuscany is definitely the beautiful Lucignano. Our agency has selected the best offers of villas in Lucignano and offers you a wide selection on this page: Choose the villa in Lucignano you prefer.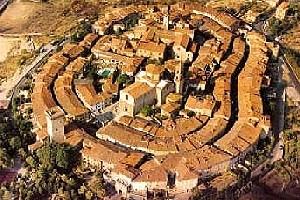 Lucignano is located about 30 kilometers south-west of Arezzo and about 50 kilometers south-east of Siena. So, the town is an ideal choice for all those who want to
discover Arezzo and Siena
. It is also situated very close to both the medieval town of Cortona and the town of Rapolano Terme, a town famous for its thermal waters and for the health centers.
The historic center of Lucignano has a special architecture: the streets that compose it are circular and form concentric circles up to the highest point of the village. All around there are green vineyards and olive groves. What better place to experience the true atmosphere of a small medieval Tuscan village? Today a chosen destination of many tourists, the town was long disputed between Florence and Siena in the Middle Ages. As evidence of the long struggle between the two cities you can see at a short distance from each other both the Rocca Senese, built when Siena dominated the village, and the Medici Fortress, when Florence finally conquered it from Siena.