Holiday villas for rent in Castiglion Fiorentino
One of our villas in Castiglion Fiorentino will be the ideal choice if you love castles, churches and want to stay between Arezzo and Cortona. On this page our villas for rent in Castiglion Fiorentino among which you can choose the one that suits your needs.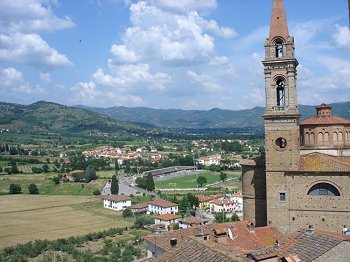 Castiglion Fiorentino is located in the province of
Arezzo
in the south of Tuscany. Between Cortona and Arezzo there are less than 20 kilometers. If instead of going to the north, you go south you will arrive in Cortona, about 11 kilometers. Always going south in a little over 20 kilometers from
Cortona
you can reach the famous Lake Trasimeno.
The old town of Castiglion Fiorentino is definitely worth a visit. Wander through the cobbled streets of the town or pass under the imposing medieval gates certainly will give to you a nice feeling. Explore the Archaeological Museum, look at the beautiful tower of the Cassero, the sixteenth-century Vasari Loggia and the Palazzo Comunale. Discover the small shops of the old town and live the contemporary atmosphere of a medieval town.