The Tomb of the Etruscan Prince in Pisa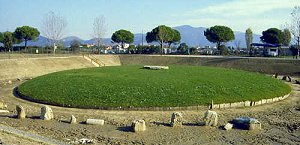 We have already referred to the presence of an Etruscan settlement in the place where nowadays stands the town of Pisa in the second chapter of this tourist guide. Now we want to concentrate on the
most famous evidence
the mysterious people coming - maybe - from Lydia, today`s Turkey, has left in the town of the Leaning Tower.
About twenty
tombs dating back to the Iron Age
were unearthed at the mid of the 19th century among the villas that stand in the northern outskirts of Pisa, in a place called Gagno. A century later, in 1967, some people who wanted to dig a well accidentally brought to light some other objects.
Between 1994 and 1998 the Tuscan Superintendence of Archaeological Heritage underwent a dig-and-research campaign in this area, which resulted in the discovery of the "
tomb of the Etruscan prince
".
The tomb is a
cenotaph
, that is, a sepulchral monument dedicated to a dead person whose body is not buried in Pisa. It has a diameter of about 30 metres, and is surrounded by rectangular stones and monoliths. Due to the find of some particular objects and the presence of a number of smaller tombs, experts believe that the tomb belonged to a noble man or to an important person... that is why it is called the "tomb of the Etruscan prince".
So if you are archaeology lovers, why do not you look among the ads for villas for rent in Pisa a holiday accommodation in Gagno?
Our most requested villas: