Pisa and the Sea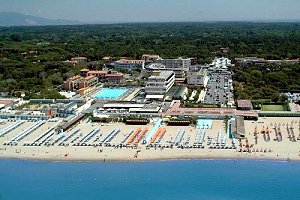 Boccadarno
,
Tirrenia
,
Calambrone
and
Marina di Vecchiano
: these are the four seaside resorts the Pisan coast offers to those tourists who dream of culture and relax holidays in Tuscany.
So, during your stay in a villa in Pisa, after having visited the Leaning Tower and the tomb of the Etruscan prince, you could lay your beach towel on the golden sand and improve your suntan.
Boccadarno, as its inhabitants call
Marina di Pisa
, is easily reached by the freeway Firenze-Pisa-Livorno or the SS1 Aurelia. Holiday-makers discovered this seaside resort at the end of the 19th century. Many of the Liberty villas that stand in this corner of the province of Pisa, as well as the first restaurants and hotels, were built in that period.
No doubt that
Tirrenia
is the most famous of the four above-mentioned seaside resorts. Founded in the 1930s with the ambition of becoming the Italian Hollywood, nowadays it is a favourite destination for young people and sports lovers. There you will, in fact, find plenty of riding stables, scuba-diving schools, tennis clubs, five-a-side football pitches, trekking routes and even a golf course. Tirrenia lies in the Parco Naturale di Migliarino - San Rossore - Massaciuccoli (for more information, read the chapter of this tourist guide dedicated to the park).
Calambrone
and
Marina di Vecchiano
are no mass-tourism destinations, which makes them the ideal holiday destinations for those who want to relax in close contact with nature.
Do not forget that along the whole Pisan coast there is plenty of
public beaches
and bathing establishments.
Our most requested villas: