Boat Trips in Pisa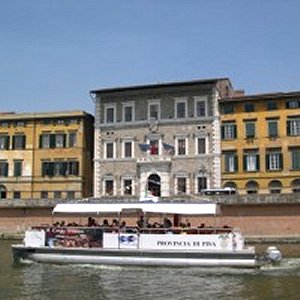 In Paris they call them
bateaux-mouches
.
They are boats - the literal translation of the name is fly-boats, thanks to which tourists can discover the city from the Seine.
A similar service exists in some Italian towns, as well: in Rome, for instance, tourist can sail down the Tevere surrounded by the monuments of the Eternal City; and do not forget Venice, the town on water
par excellence
, where people can even have romantic gondola rides.
Since some years a particularly pleasant
mini-cruise service
has been activated also
in Pisa
.
Tourists can choose among
three tours
.
The second one last an hour and a half and is simply the extension of the first tour to the Natural Park of Migliarino - San Rossore - Massaciuccoli. The boat slowly sails by Pisa`s palaces, houses and villas and penetrates the pure nature of this corner of Tuscany.
In short, thanks to these three charming mini-cruises tourists can see Pisa and the surrounding territory from an unusual point of view.
Post scriptum: on particular occasions you can also rent a whole boat.
A last tip: do not forget to contact the service provider before leaving your holiday apartment or villa in Pisa .
Our most requested villas: