The Regatta of the Ancient Maritime Republics in Pisa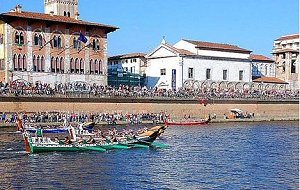 Since July 1st, 1956, the
Regatta (or Palio) of the Ancient Maritime Republics
has been held in turn in one of the four towns that participate in the contest: Amalfi, Genoa, Pisa and Venice. It takes place between the end of May and the beginning of June.
And every edition attracts the snaps of the cameras of thousands tourists, both Italian and foreign.
What are its rules?
They are very simple: four 12-metre boats weighing more than 700 kilos and crewed with eight oarsmen and a cox vie with each other in a 2-kilometre regatta. In Pisa, the crews row
upstream along the Arno
from the Aurelia bridge up to the Prefecture.
The boats bear the colours and the
symbol of the town
they represent: Pisa`s boat is red and has an eagle on the fore; Genoa`s is white and has a dragon; Amalfi`s is blue and has a winged horse; and Venice`s is green and has a winged lion.
The boat/town that breaks the tape first wins a gold-and-silver trophy by the Florentine goldsmith school.
Therefore, as you are planning your next holidays in a Tuscan villa, do not forget to check up on where the next edition of the Regatta (or Palio) of the Ancient Maritime Republics is going to take place.
If it is going to take place in Tuscany, we suggest you to look for a villa along the lungarni in the ads for holiday villas for rent in Pisa : this way you will have the opportunity to enjoy the spectacular event from a privileged point of view.
Our most requested villas: