Museums in Pisa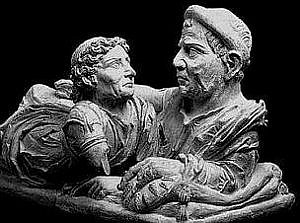 Our tour does not begin with a visit to a museum but to the mural
Tuttomondo
. The last public work by Keith Haring peeps out among the palaces and the villas of Pisa in the Sant`Antonio district. The 30 multicoloured figures realized in 1989 cover one of the walls of the church entitled to the patron saint of pets.
Our tour dedicated to the arts continues with a visit to
Palazzo Giuli Rosselmini Gualandi
, also known as
Palazzo Blu
- you will easily understand the origin of its peculiar "nickname" as you stand in front of it -, which houses works by various artists and where important exhibitions dedicated to worldwide renowned artists (e.g. Chagall and Mirò) are organized the whole year round.
Even though you have already visited the monuments that stand in Piazza dei Miracoli, do not forget to spend some hours in the
Museo delle Sinopie
and in the
Museo dell`Opera del Duomo
.
The former houses the preparatory sketches for the frescoes that decorate the Monumental Cemetery. In the latter are exhibited masterpieces and objects coming from the buildings in Piazza dei Miracoli and from their building yards.
Last but not least, before going back to the apartment or villa in Pisa you have rented for your holidays in Tuscany, do not miss a visit to the
Museo Nazionale di San Matteo
. Nine words are enough to describe it: it is the most important picture gallery in Pisa. Its rooms house a collection of masterpieces by Nicola and Giovanni Pisano, Masaccio and Ghirlandaio.
Are you an archaeology lover? Read the next chapters of this tourist guide.
Our most requested villas: