Folkloric Events in Pisa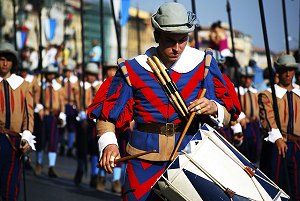 There are the two days dedicated to Ranieri Scacceri, the patron saint of the town, and the
Capodanno Pisano
(Pisan New Year`s Day). There is the
Gioco del Ponte
, which in 1935 attracted to the banks of the River Arno even Victor Emmanuel III, and - every four years - the
Regatta of the Ancient Maritime Republics
.
These are just some of the many folkloric events that Pisa offers to its visitors.
The first to take place is the Capodanno Pisano. On March 25th, exactly at noon, a ray of sun enters the Duomo and hits a marble egg situated above the pulpit by Giovanni Pisano. It is not by chance that the Pisans chose March 25th as the first day of the year (Pisa abandoned its own calendar only in 1749 by order of Grand Duke Francis Stephen of Lorraine): in fact, it coincided with the day of the Annunciation and was just a few days after the beginning of the spring. The feast is celebrated with a
pageant
and a mass.
We will dwell longer on the
Luminara
(on which occasion thousands of small lamps decorate the faηades of the Pisan villas and palaces that stand along the River Arno) and the
Palio
in the next two chapters of this tourist guide. The two events are held on June 16th and 18th respectively and are dedicated to Ranieri Scacceri.
After having undergone several changes in the formula and in the setting, nowadays the
Gioco del Ponte
is held on the Ponte di Mezzo on the Saturday that precedes the Sunday of June.
Last but not least, the
Regatta of the Ancient Maritime Republics
is held every four years in Pisa between May and June.
Do not forget that if you decide to rent a villa in Pisa, every month there will be some events you should not miss... just enter the keywords "calendar events Pisa" on the Internet.
Our most requested villas: