The Ancient Shipyard in Pisa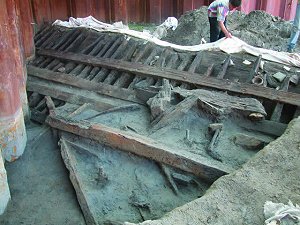 In 1998, some wooden objects were accidentally unearthed in the western part of the province of Pisa during the digs for the construction of a railway office district. In just a few years about
30 ships
dating back to the period between the 3rd century BC and the 7th century were brought to light together with some amphorae, jewels, coins, shoes, earthenware and tools.
Due to the fact that many of the ships sank with their crews following violent floods, nowadays this ancient shipyard is widely renowned as the "
Pompei of the sea
".
The shipyard, which you can easily reach if you have decided to rent a holiday villa in Pisa for one or more week, covers an area of 10,650 square metres (3,500 square metres are dedicated to the digs and 1,700 are dedicated to the laboratories and the restoration centre; the rest is still to be explored). Tourists can visit the shipyard and discover anything about the digs and the restoration activities that are carried out in the centre following a guided itinerary (we would suggest you to book your visit in advance).
In the future the objects found in the "Pompei of the sea" will be exhibited in a real museum dedicated to navigation that should be realized in the
Medicean dockyards
. Bernardo Buontalenti participated in the construction of the dockyards, which were realized in the 16th century by order of Cosimo I de` Medici. Surrounded by the River Arno and the palaces and villas that stand in this corner of Pisa, the venue is situated in Lungarno Ranieri Simoncelli. Here were produced the ships of the Tuscan fleet.
Our most requested villas: