Villas for rent in Carrara
For those who love art, architecture and design, one of our villas in Carrara will be the best choice for your next holidays in Tuscany. Town well known all over the world for it famous and expensive white marble, a holiday in a holiday villa in Carrara will guarantee great moments to you and your family.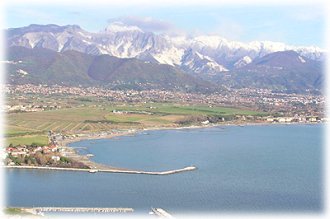 Carrara is located in the province Massa-Carrara, the north-west point in Tuscany. Carrara is between Massa and the municipalities belonging to the Lunigiana territories. Carrara offers
magnificent mountains and a coastline
. During the summer, the wide sandy beaches in Marina di Carrara get alive with events and parties. The city Carrara is surrounded by hills and it is located at the foot of the high mountains called Apuan Alps. The historical center of Carrara is located among marble quarries from which the white marble is extracted.
Carrara will be a nice discover for adults and children. The marble quarries are open to the publich and are a scenery that will make you speechless. Expert guides will show you the process of extracting and working the marble and you can see with your own eyes huge pieces of marble. Not to be missed a visit to the Museo Civico del Marmo (Town Museum of Marble). Obviously the whole city is home of many shops and exhibitions where you can see great works of art made of Carrara marble.