Villas for rent in Massa
Choose one of the villas in Massa listed below for your next holidays in Tuscany. Among the sea and the mountains, enjoy a villa for rent in Massa at your complete disposal, in total privacy and independence.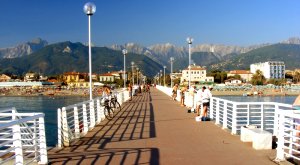 Massa is located in Massa-Carrara, the northest province in Tuscany. Among the cities in the province of Massa-Carrara, Massa is the southest and enjoys a
territory both on the coast and with mountains
. Among the towns in Massa that are on the coast, we mention Marina di Massa which is one of the most famous towns among tourists who love the sea. From Massa you can easily reach both Carrara and the Lunigiana going north and Viareggio, Lucca and Pisa.
Massa is characterized by a beautiful old town, surrounded by fifteenth-century walls still visible. The Malaspina Castle was built in 1300 and dominates the entire valley with the opportunity to admire the surrounding landscape and also visually reach the distant city of Livorno. The Ducal Palace dates back to the seventeenth century and was finished at the beginning of the eighteenth century. The façade has a deep red color and is decorated with stucco and marble that embellish it.