Holiday villas for rent in Viareggio
In the the city of Carnival, our agency has selected the best villas for rent: here for you deals for villas in Viareggio in Versilia. Choose to rent a villa in Viareggio and spend a wonderful holiday at the sea in Tuscany.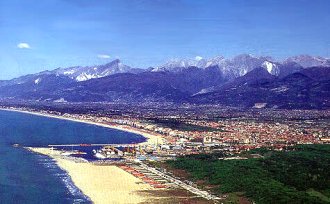 Viareggio is the
largest and most famous city in Versilia
. It is located in northern Tuscany, although it is the most southern town of Versilia. Part of the town overlooks the coast and part borders with the municipality of Camaiore. The Massaciuccoli Lake is located a few kilometers from Viareggio for those who want to to alternate the sea and the crowded beaches with the calm waters of the lake. Viareggio is well connected with other Tuscan cities via train and bus. By train you can reach without having to change both Florence and Lucca.
The historic center of Viareggio is characterized by major roads as wide as the 'Passeggiata' (Walk) and 'viali a mare' (sea avenues) that connect the main parts of the city. Along these streets you can find Art Nouveau villas particularly beautiful and elegant. Torre Matilde is the oldest historical monument of the city and dates back to the sixteenth century.