Villas for holiday rentals in Grosseto
Do you love being comfortable in a nice big town and you want to enjoy the countryside too? Rent one of our villas in Grosseto in Maremma and you will obtain everything that you desire. On this page the best offer for villas for rent in Grosseto immersed in the heart of Tuscan Maremma.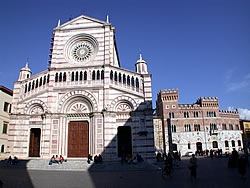 Grosseto is the main city in Maremma and is located in the south-west area of Tuscany. Grosseto is 150 km away from Florence and 70 km away from Siena. If you love the sea, from Grosseto you can reach Marina di Grosseto or Principina a Mare, sea resorts located less than 10 km away. To all those who love cycling the good news is that a long
cycle paths
connects Grosseto to its coastal towns allowing tourists and inhabitants to easily reach the sea by bike.
Grosseto offers a nice historical centre full of shops. The cathedral San Lorenzo dates back to 1300 and it is in Gothic style. The Church San Francesco was built in the Middle Ages and has a nice tabernacle painted on the façade. Palazzo Aldobrandeschi, with its crenellated towers, is one of the protagonists of Piazza Dante, the main square in town. A walk along Corso Carducci, the main road in the historical centre, will made your afternoons really nice and relaxing.