Villas for rent in Castiglione della Pescaia
If you can't say no to the sea, but you would like to stay in Tuscany among hills, history and art do not hesitate to choose one of our villa in Castiglione delle Pescaia. The town offers sea, a medieval historical centre, archeological sites and nature. Continue reading and choose one of our villas for rent in Castiglione della Pescaia.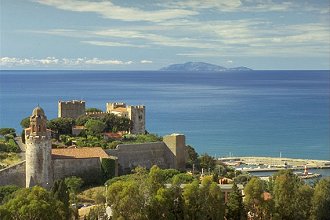 Castiglione della Pescaia is
located on the coast
of the province of Grosseto. From Castiglione della Pescaia you can reach Grosseto in 30 minutes both with public or private transportation. If you love biking you can ride a bike on the cycle paths that connect Castiglione della Pescaia with the nearby towns, like Marina di Grosseto. Moreover, the archeological ruins of Vetulonia are just 30 minutes away.
The historical centre of Castiglione della Pescaia is dominated by its medieval castle. The town is structured from the top to the bottom. On the highest part of town, the Castle of Castiglione della Pescaia offers to tourists a step back in time and a panoramic terrace from where you can see the surrounding territory. Walking down on the small alleys full of shops and restaurants you reach the wide beach and a small harbor. Do not forget that Castiglione della Pescaia is one of the most important sea resorts in the Grosseto Maremma.