Holiday villas for rent in Radda in Chianti
Our best villas in Radda in Chianti are listed below. By choosing a villa for rent in Radda in Chianti you can easily reach Siena and you will be surrounded by castles, vineyards and medieval villages.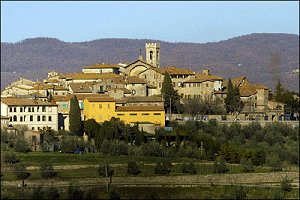 Radda in Chianti is located approximately
40 kilometers north-east of Siena
and is easily accessible from a road with a beautiful panorama on the hills of Chianti Classico. In fact, the story acknowledges to Radda in Chianti a leading role in creating the legend of Chianti: Radda in Chianti in fact was one of the towns belonging to the League of Chianti in medieval times. It will therefore be a unique experience to stay near a town of the Chianti Historical.
Radda certainly meets the ideals of medieval town that any tourist who loves history might have. In fact, the town still keeps part of the medieval walls and narrow streets that reach the town center with the church and the municipality located in the highest part of town. All around there is the countryside, beautiful in every season of the year. Visit the Church of St. Nicholas with Romanesque origins and take a photo at the Palazzo del Podesta, built in the fifteenth century and embellished with coats of arms of important local families. In addition, Radda in Chianti is known for the Grand Duke's Ice built during the Grand Duchy of Tuscany to transform the snow into ice.